Version
Download

0

File Size

3.54 MB

File Count

1

Create Date

10.05.2023

Last Updated

10.05.2023
Pro Youth Manuale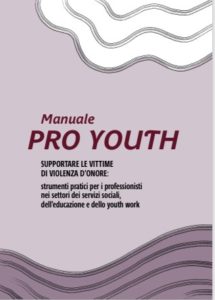 Pro Youth Manual (Italian translation).
Supportare le vittime di violenza d'onore: strumenti pratici per i professionisti nei settori dei servizi sociali, dell'educazione e dello youth work.
The Pro Youth -project (2021-2023) is a strategic partnership project of Erasmus+ program, in which three partner countries are cooperating: Finland, Italy and Jordan. The Pro Youth -project develops working methods to support young people who are experiencing honor related violence or the threat of it.